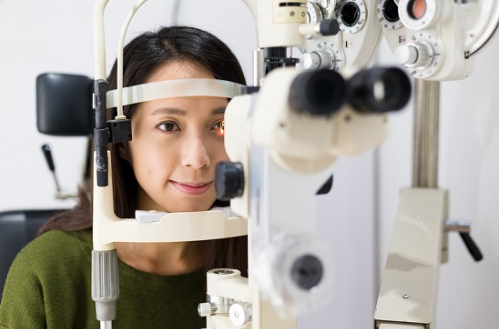 赵女士被新出的电视剧严重圈粉。她将整部剧下载进手机,通宵观看后,忽然发现眼前有黑影,一直挥之不去,原以为是没休息好,直到当地爱尔眼科医院检查才发现,原来是患上了视网膜脱离!
Ms. Zhao loved the newest TV series so much that she downloaded the whole episodes to her mobile phone and watched the whole night. All of a sudden, a shadow appeared in front of her eyes and would not go away. She thought it might due to lack of sleep. She did come to AIER East for a checkup and the results shocked her. She had retinal detachment!
在爱尔眼科眼底病科室,经常会接到类似这样的门诊,有些因为通宵追剧,有些因为蹦极、玩过山车,有些因为打篮球时与别人发生剧烈碰撞,甚至仅仅因为一个喷嚏,都可能引发视网膜脱离。
Ms. Zhao was not the only one who suffered retinal detachment due to personal entertainment habits such as binge-watching. Some people may find themselves suddenly hit by retinal detachment at their trying to to be a Bunger jumper, roller coaster or basketball player whose activities involve violent physical collisions and descending rapidly from height. Or it may sound even more weirdly, somebody develops retinal detachment at a sneeze!
所有这些人都有一个共同的特征,那就是高度近视!像赵女士,她本身有高度近视,加上长期使用电子产品,疲劳用眼,直接导致了视网膜脱离。
Indeed these people all have one thing in common. They are all with high myopia. For Ms. Zhao, her long-term high intensity use of myopia eyes on electronic products strained retina too much and should be held as the direct reason for retinal detachment.
那么什么是视网膜脱离呢?它是如何影响高度近视患者的呢?除了高度近视,还有那些人有高风险呢?
So what exactly is retinal detachment? And why it affects people with high myopia? Who else is at risk?
视网膜脱离是指视网膜与眶壁分离,属于一种比较紧急的情况。不及时救治可能致盲。
Retinal detachment is an emergent case when the retina separates from the layer underneath. Without treatment or delayed too long permanent loss of vision may occur.
感光细胞所在的视网膜是一层薄薄的膜,由玻璃体支撑紧贴眶壁。高度近视者其视网膜比正常人薄,因眼轴的增长而受到玻璃体牵拉,患视网膜脱落的几率比普通人高。有时视网膜小范围撕裂会先发生。如果治疗不及时,液化玻璃体通过撕裂位置进入到视网膜与眶壁之间,就会引发大范围的视网膜脱离。
Normally the retina, a thin film on which photoreceptor cells are located is supported and pushed against on the inner orbital wall by vitreous body. In high myopia, the eye ball becomes longer than normal, in which, the vitreous body keeps pulling the retina and gives such patients higher risk of retina detached from the orbital wall. In some case, retina tear at small area happens first. To patient, it appears like a curtain over part of the field of vision. If treatment delayed, the fluid gets under the tear and can cause retinal detachment.
引发视网膜脱离的风险包括高度近视、外伤、家族遗传以及白内障手术并发症等等。如果视网膜脱离的早期预警能够被注意到,网脱能够很好地治愈。视网膜脱离最有效的预防和降低风险是大家懂得早期症状。一旦症状出现,积极寻求眼科检查和治疗。定期进行常规眼科检查也能发现视网膜撕裂等。在早期,激光和冷凝能够有效治疗。
Risk factors for retinal detachment include severe myopia, retinal tears, trauma, family history, as well as complications from cataract surgery.
Retinal detachment can be mitigated in some cases when the warning signs are caught early. The most effective means of prevention and risk reduction is through education of the initial signs, and encouragement for people to seek ophthalmic medical attention if they have symptoms suggestive of a posterior vitreous detachment. Early examination allows detection of retinal tears which can be treated with laser or cryotherapy.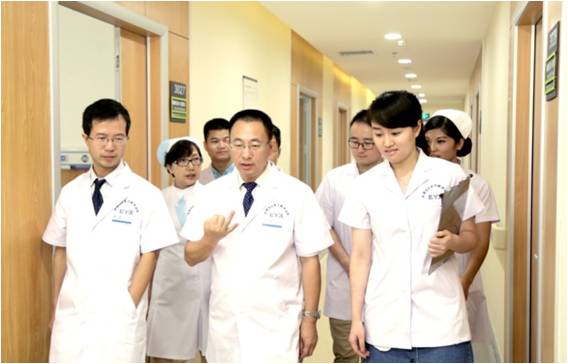 胡建斌医生,成都东区爱尔眼科医院院长,眼底专家,带领由22名眼科医生、17名技师及42名护士构成的专业眼科医疗团队为我们的患者提供专业眼科医疗服务服务!
Dr. Hu Jianbin, the President of AIER East, vitreous-retinal expert, leads a professional team of 22 doctors, 17 technicians and 42 nurses and provides our patients with specialized eye medical services
胡建斌教授在美国犹他大学John Moran眼科中心从事博士后研究工作多年。
Dr. Hu Jinbin had years of post doctoral research and working experience at John A. Moran Eye Center, University of Utah, USA. His major interests are in vitreous-retinal surgeries, molecular genetics, artificial vision and macular degeneration. Dr. Hu has been in clinical practice and research on vitreo-retina for 30 years and is especially experienced in diagnosis and treatment of complex fundus cases such as retinal detachment and diabetic retinopathy.