Eyes are the most essential parts of our face. They are a window into just who we are. A pair bright and energetic eyes make us look young with vitality. However, puffy eye bags make us appear tired and more aged. Originally derived from Ocular PathologicPlastic Department, our Plastic & Cosmetology Service Center provides anti-aging treatments of facial and neck skin, and ocular plastic surgeries for both beauty and pathologic purposes, where eye bags can be treated surgically and non-surgically.
眼睛是面部最重要的部分。它们就像一扇窗户,能够看进我们的内在。一双明亮有活力的眼睛能使我们显得更年轻。然而,浮肿的眼袋确使我们疲惫苍老。我们的眼整形美容中心从最初的病理性眼整形科延伸出来,扩大服务范围,提供面部和颈部皮肤抗衰美容治疗,同时提供眼袋的手术及非手术治疗。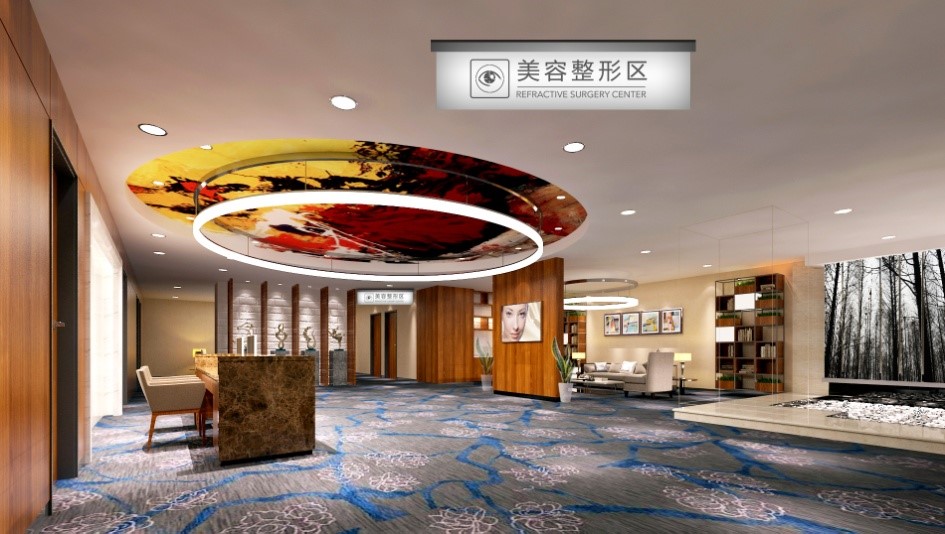 What is eye bag? Can we completely eliminate it?
什么是眼袋?我们能够去除眼袋吗?
The eye bag refers to the lower eye, the skin is drooping and bloated, and the bag is in the form of a bag.
The eye bag is divided into primary and secondary according to the etiology. Primary pouch often has a family genetic history and is more common in young people. Secondary eye bag is more common in the middle and elderly.
Through non-surgical treatment and surgical treatment, eye bag can be effectively eliminated.
眼袋,是指下眼睑皮肤下垂、臃肿,呈袋状。眼袋根据病因可分为原发性和继发性两大类。原发性眼袋往往有家族遗传史,多见于年轻人。继发性眼袋多见于中、老年人。非手术及手术治疗都能够有效去除眼袋。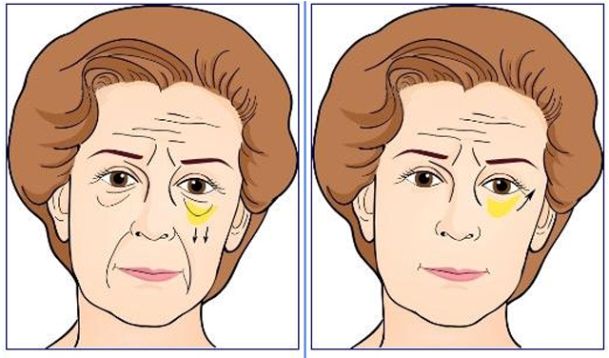 The cause of bag眼袋形成的原因:
1.Genetic Factor遗传因素
When some people are born with very thin eye tissue and subcutaneous tissue around the orbit, the blood forms a blue-black eye circle as it flows through the subcutaneous tissue and the great artery.
当我们眼眶周围的眼部组织与皮下组织非常的单薄,导致血液在流经皮下组织和大动脉血管时就形成了一个蓝黑色的眼袋。
2.Sleep debt睡眠不足
Due to excessive fatigue, the eyes can't get full rest, so that the eyes are in a state of contraction and tension for a long time, resulting in insufficient blood supply below the eyes, which will cause the circulation of the lower part of the eye circle is not smooth, and begin to appear congestion and edema.
由过度疲劳导致眼睛无法得到充分休息,从而眼睛长期处于一个收缩又紧张的状态,导致眼部下方的供血量不足,会引起了眼圈下部循环不畅,开始出现淤血浮肿,产生眼袋。
3.Aging衰老
随着年龄的增长,皮肤眼睑下的皮肤逐渐松弛,松弛以后皮肤和眶隔膜就会下坠,同时眼眶内的脂肪也一起下坠形成囊袋。
With the increase of age, the skin under the eyelids gradually relaxes. After relaxation, the skin and orbital septumfall, and the fat part in the orbit also fall together then form a bag.
Removal of eye bag
There are two ways to get rid of the eye bag, one is physical, which is non-operative and non-invasive. Another one is surgical, relatively light.
Eye bag in the early stage can be treated by non-surgical treatment. Like laser or some physiotherapy, which can tighten the skin by stimulating the local skin, shrink the eye bag and promote it to bounce back, but the effect of this way may not be particularly ideal, only a part of the therapeutic effect can be achieved.
The most fundamental and effective treatment still requires surgery to cut off, remove the loose skin at the moment, tighten the skin, and re-place the excess fat, leaving the remaining fat back to its rightful place.
去眼袋的方法有两种,一种是物理性的,一种是非手术性的,无创性的。一种是通过手术性的,比较轻的,比较早期的眼袋我们可以通过非手术的治疗的办法,比如说激光,像一些理疗通过刺激局部的皮肤的收紧达到一个让皮肤收紧,将眼袋回缩,促进它回弹,但是这种效果的疗效可能不是特别的理想,仅能达到一部分的治疗效果,最根本的治疗效果还是要靠手术来切除,去除松驰之后产生的多余的皮肤,将皮肤收紧并且将多余的脂肪进行一个切除,并且将残留的脂肪复位,让其回到应有的位置。
Chengdu AIER East Eye Hospital Plastic & Cosmetology Service
成都东区爱尔眼科眼整形美容服务
At our Plastic & Cosmetology Department, eye bag removal surgery can be done on either outpatient or inpatient base depends on clients' schedule and expectations on post-surgery care. Forthe first night after inpatient surgery, clients are inspected and cared by our professional team therefore would be much relieved from the post-surgery reaction. Local or general anesthesia can be chosen based on different individual psychological endurance. Eyelids swollen usually lasts 1 to 3 months
在东区爱尔整形美容科,根据客户的日程及对术后护理的期望,眼袋手术可以选择门诊做,也可以选择住院做。住院手术后第一夜会有专业护理团队进行术后的观测及护理,能够极大患者的术后不适。同是根据患者的心理承受能力,也可以选择局部麻醉或者全身麻醉。术后眼睑肿胀会于1-3个月左右消退。

Before

After
Dr. Du Anshi, chief of AIER East Plastic & Cosmetology Service has wide experience in lacrimal passage disorders and ocular plastic surgeries.
杜安石医生是东区爱尔眼科整形及泪道科主任,他对于泪道疾病和眼部整形手术有着丰富的诊断治疗和手术经验。