How the tears are drained
眼泪是怎么样排放的
Lacrimal gland keeps producing tears in order to keep eye surface moisturized. Part of the tears is vaporized and most of it are drained into nasal cavity. As the eye blinks, eye lid pushes excessive liquid across the eye into the drains (puncta) at the inner corner of the eye, then through canaliculi that connect the eye with the nose into a tear sac (lacrimal sac) that lies beside the nose. Then sac narrows into the tear duct (nasolacrimal duct), which drains through the nasal bone into the nostril. The whole passage of tears is called Nasolacrimal passage.
为了滋润眼球,泪腺会不停分泌泪液。除部分泪液蒸发,大部分泪液会排入鼻腔。眨眼时,眼睑推动多余泪液,通过眼内侧的泪小点进入泪小管,再进入泪囊,后经鼻侧泪道进入鼻腔。泪液从眼进入鼻腔的整个通道成为鼻泪管。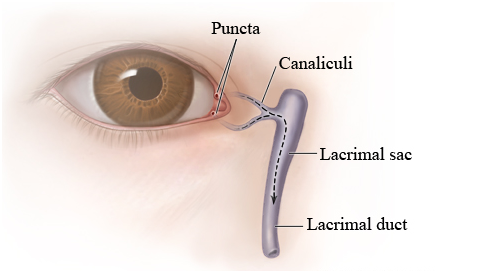 When the passage is obstructed/blocked at any place or too narrowed to drain the tear smoothly or tear duct get inflamed, patient would have tearing eye.
当泪液通道在仍何一个环节堵塞、变窄或者鼻泪管发生炎症,泪液无法顺畅排下,都会表现为泪眼。
AIER East provides either laser treatment or surgery methods to treat tear duct obstruction. Different from the traditional surgery which would leave scar on the face, now the treatment is quicker and more efficient without any scar left.
东区爱尔提供泪道阻塞激光或手术治疗。与传统方式不同在于,现在的治疗更加快速有效并且不会留下脸部疤痕。